Main content starts here, tab to start navigating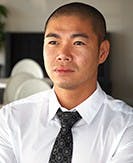 Jimmy Liang
Founder / CEO / Chef
Jimmy Liang is the Founder/CEO/Chef of JP Fuji Group. SmartCEO has awarded the serial entrepreneur Boston's Future 50; South Shore Living has named him one of the 10 Most Influential People You Should Know alongside actor Steve Carell; The Patriot Ledger has deemed him one of the 40 Stars Under 40; Converse has featured him in its Global Exhibition campaign published in the Boston Business Journal.
As a graduate of North Quincy High School and an English major in college, Jimmy Liang discovered his passion for the culinary arts at a young age. After becoming head sushi chef at a local Chinatown restaurant, Jimmy, along with best friend and partner Peter Tse, opened Fuji Restaurant. Although only 19 at the time, Jimmy's enthusiasm and love of the business helped quickly lead his restaurant to success.
Only a short time later, in 2004, Jimmy and Peter more than quadrupled the size of their restaurant and relocated to Fuji 1546. Amidst opening five restaurants between 2007 and 2011, and three in the span of eight months this past year, Jimmy also started and continues to run the Fuji Design and Construction Company.
In 2001 and 2003, Jimmy entered into politics when running for City Counselor at Large, the only two out of three times an Asian name had appeared on the ballot, and for Ward 6 City Council in 2007. During his first campaign at only age 23, Jimmy raised Asian voter turnout by 223 percent.
He has also gone on to serve on the Board of Directors for the South Shore YMCA and works with Father Bill on his annual Food Fest, which raises money to benefit organizations that help the homeless. This collaboration earned Jimmy the honor to serve as Chairman for Taste of South Shore in 2016. In his efforts to provide and give back to the community, Jimmy continues to work with the Asia Outreach August Moon Festival to raise money for Quincy Hospital's Asian Services Fund and is also an event co-chair and donor for the Quincy Asian Resources Lunar New Year Festivals. He is also a founding member of the Boston chapter of the Chinese American Citizens Alliance. Jimmy believes that giving back to one's community has brought him where he is today.